The Putnam County Board of Education announced free and reduced-priced meals policy for participants who are unable to pay full price for meals that will participate in the National School Lunch Program, the School Breakfast Program, the Child and Adult Care Food Program for Afterschool Snacks/Supper Program, the Summer Food Service Program, and the Fresh Fruit and Vegetable Program.
Unfortunately, for the 2022-23 school year, the federal government has not approved free universal meal services for all students (services to continue to obtain free school meals automatically), as they did the last two years throughout the Pandemic. However, Putnam County currently has seven schools that qualify to participate in meal benefits through the Community Eligibility Provision (CEP) program. The CEP program is sponsored by the United States Department of Agriculture's Child Nutrition Meal Programs and will provide free universal meal services to children in high-poverty areas.
Putnam County CEP schools for the 2022-23 school year include:
Buffalo Elementary
Confidence Elementary
Hometown Elementary
Lakeside Elementary
Poca Elementary
Poca Middle
Rock Branch Elementary
Students enrolled at one of the above-listed schools will receive FREE school meals (one breakfast and one lunch at no cost each day throughout the school year). Therefore, there is no need for parents to complete a meal application form to receive benefits for students at these school sites above. However, suppose other students in the same household will attend other Putnam County Schools that have not been selected as CEP schools. In that case, you must complete a meal application for those other students to receive meal benefits.
Putnam County Schools has adopted the following family size income criteria for use in determining the eligibility of participants for free and reduced-priced meals: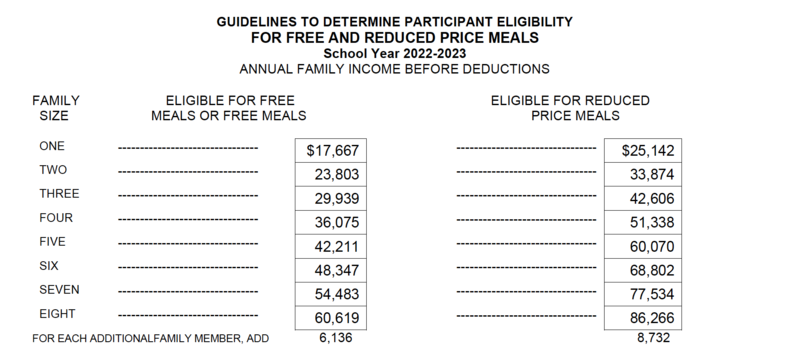 Participants from households whose income is at or below the levels shown in the image above are eligible for free and reduced-price meals.

APPLY FOR MEAL BENEFITS ONLINE OR BY PAPER (FORMS)
PAPER application forms will be sent home with students at the beginning of the school year. Additional paper copies of the application are available at all school sites and county offices.
If you would prefer to use an ONLINE application, you can start applying today at www.schoolcafe.com.
The online application process is quick and easy to use. The information provided on the application is confidential information to be used only to determine the participant's eligibility. An application may be submitted at any time during the school year but must be submitted annually for continued eligibility. Information given on the application may be verified at any time during the school year by school or program officials.
So that the school or program officials can determine eligibility for free or reduced-price benefits, the household applying for a child must provide all of the following information listed on the application:
Names of all household members
The last four digits of the Social Security number of the household member who signs the application or a statement that the household member does not possess one
Amount and source of income received by each household member
The verification signature of an adult household member to certify that the information provided is correct
Households currently receiving Food Stamps or TANF benefits for children must indicate a Food Stamp/TANF Program Case Number for the household. The signature of an adult household member is required to certify the information provided on the application is correct. Households with foster and non-foster children may choose to include the foster child as a household member and any personal income earned by the foster child on the same household application that includes their non-foster children. Foster payments received by the family from the placing agency are not considered income and do not need to be reported. The signature of an adult household member is required to certify the information provided on the application is correct.
Eligibility status remains in effect for one program year. However, reapplication is encouraged if there is a change in household size or income that would reflect an increase in benefits for the program participant.
Under the provision of the free and reduced-priced meal policy, the program director will review applications and determine eligibility. If a parent, guardian, or adult household member is dissatisfied with the decision and wishes to make a formal complaint or request a hearing to appeal the decision, they should contact the Putnam County Schools Superintendent in writing at 77 Courthouse Drive, Winfield, WV 25213.
In accordance with Federal civil rights law and U.S. Department of Agriculture (USDA) civil rights regulations and policies, this institution is prohibited from discriminating on the basis of race, color, national origin, sex (including gender identity and sexual orientation), disability, age, or reprisal or retaliation for prior civil rights activity. Program information may be made available in languages other than English. Persons with disabilities who require alternative means of communication to obtain program information (e.g., Braille, large print, audiotape, American Sign Language) should contact the responsible state or local agency that administers the program or USDA's TARGET Center at (202)720-2600 (voice and TTY) or contact USDA through the Federal Relay Service at (800)877-8339. To file a program complaint, a Complainant should complete Form AD-3027, USDA Program Discrimination Complaint Form, which can be obtained online at https://www.usda.gov/sites/default/files/documents/USDA-OASCR%20P-Complaint-Form-0508-0002-508-11-28-17Fax2Mail.pdf, from any USDA office, by calling (866)632-9992, or by writing a letter addressed to USDA. The letter must contain the complainant's name, address, telephone number, and a written description of the alleged discriminatory action in sufficient detail to inform the Assistant Secretary for Civil Rights (ASCR) about the nature and date of an alleged civil rights violation. The completed AD-3027 form or letter must be submitted to USDA by:
(1) MAIL: U.S. Department of Agriculture
Office of the Assistant Secretary for Civil Rights
1400 Independence Avenue, SW
Washington, D.C. 20250-9410; or
(2) FAX: (833) 256-1665 or (202) 690-7442; or
(3) EMAIL: program.intake@usda.gov
USDA is an equal opportunity provider.