Putnam County Schools would like to congratulate Jacob Holtzapfel and Brayden Marshall of Winfield High School on being selected as semifinalists in the 69th annual National Merit Scholarship Program!   Nationwide, semifinalists represent fewer than 1% of United States seniors. Of the more than 16,000 semifinalists, about 95% are expected to achieve finalist standing, and approximately half of the finalists will win a National Merit Scholarship. The National Merit Semifinalists will go on to compete for approximately 7,140 National Merit Scholarships worth nearly $28 million offered in the spring.    Finalists will be notified in February 2024, and National Merit Scholarship winners will be announced in four nationwide news releases beginning in April 2024 and concluding in July.   Good Luck Jacob & Brayden! #PutnamProud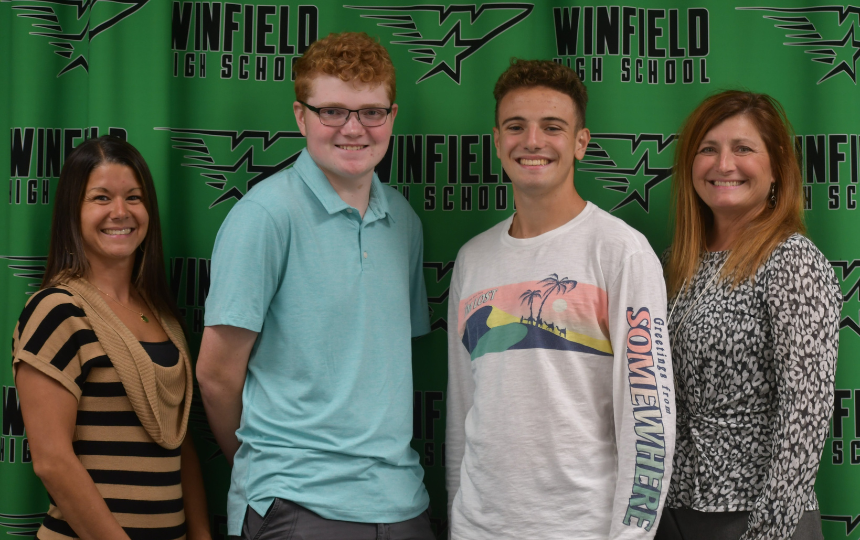 On behalf of Superintendent Hudson and the Putnam Board of Education, Happy WV School Service Personnel Day! PCS would like to thank our dedicated & compassionate school service professionals for all they do to help serve & support students. School service personnel are involved in nearly every aspect of education, from maintaining buildings and grounds, preparing and serving meals, keeping school facilities clean, assisting in the classroom, providing safe transportation, and many other specialized services. Undoubtedly, our Putnam County School Service Professionals are instrumental in the education of all students. We are honored and grateful to have you all a part of our PCS Team. #PutnamProud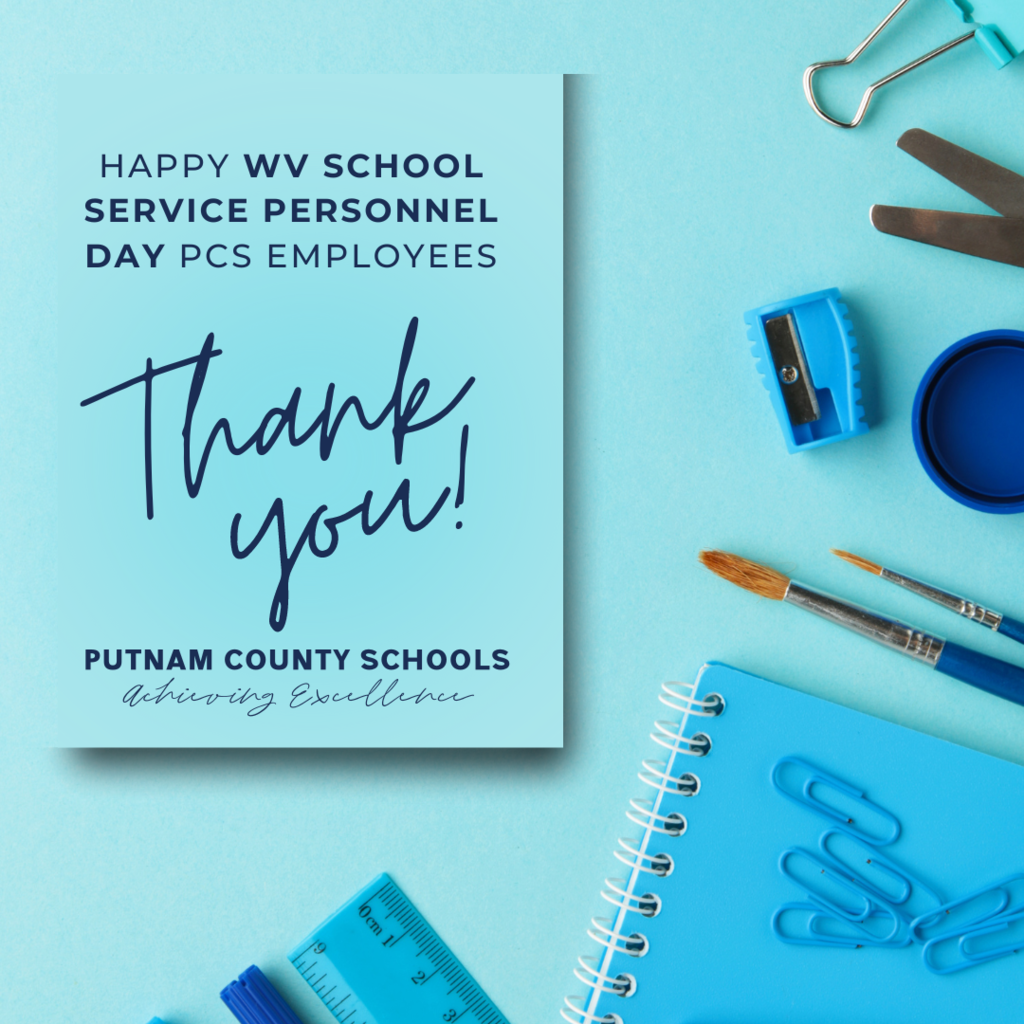 Congratulations to Rock Branch 5th Grade Educator Janna Hamrick on recently being selected as a WV State Superintendent's Rising Scholar Award Recipient for the 2023-24 School Year! 🤩 Ms. Hamrick was recommended as a distinguished classroom teacher who has demonstrated exceptional educational talent and accomplishments and is an inspiring presence that motivates and impacts students, colleagues, and the community! As a Rising Scholar Award Recipient, Ms. Hamrick is recognized and acknowledged as a symbol of excellence in education! Thank your commitment to your #RBELeaders and all you do to serve and support student learning! We are honored to have you a part of PCS! ✨⭐️🌟💫 #PutnamProud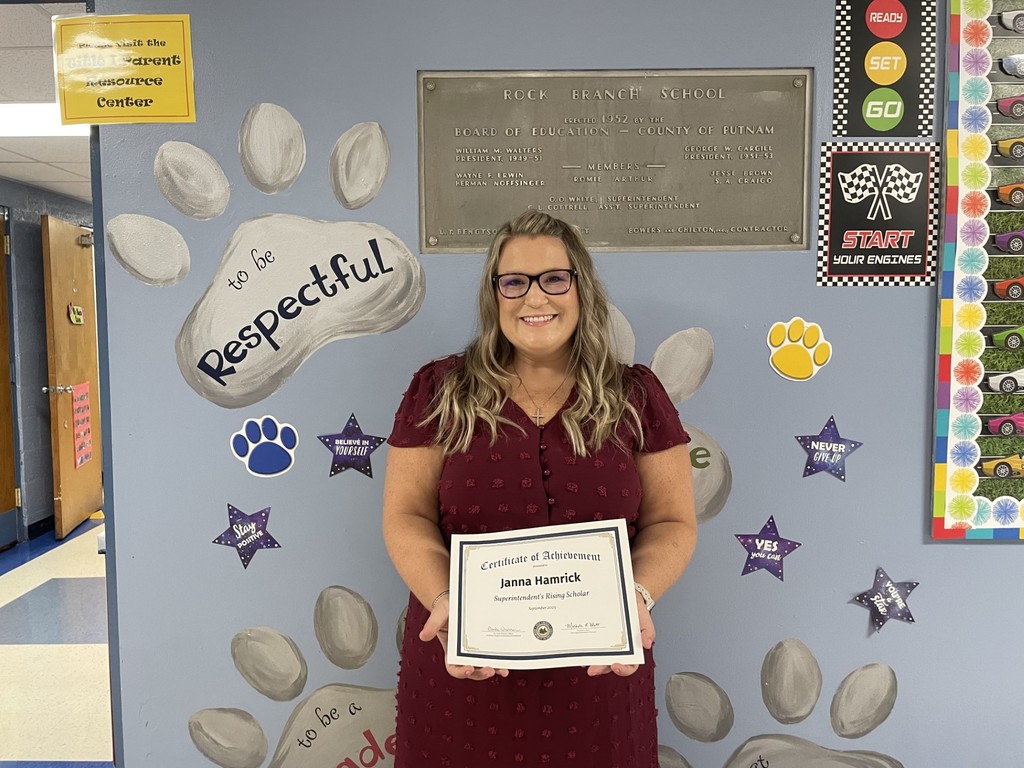 Today and always, we join our Nation in remembrance of all those lost on September 11, 2001, and the heroes forged in the moments following. Today and always, we honor their courage, strength, and selflessness. 🇺🇸 #NeverForget #PatriotsDay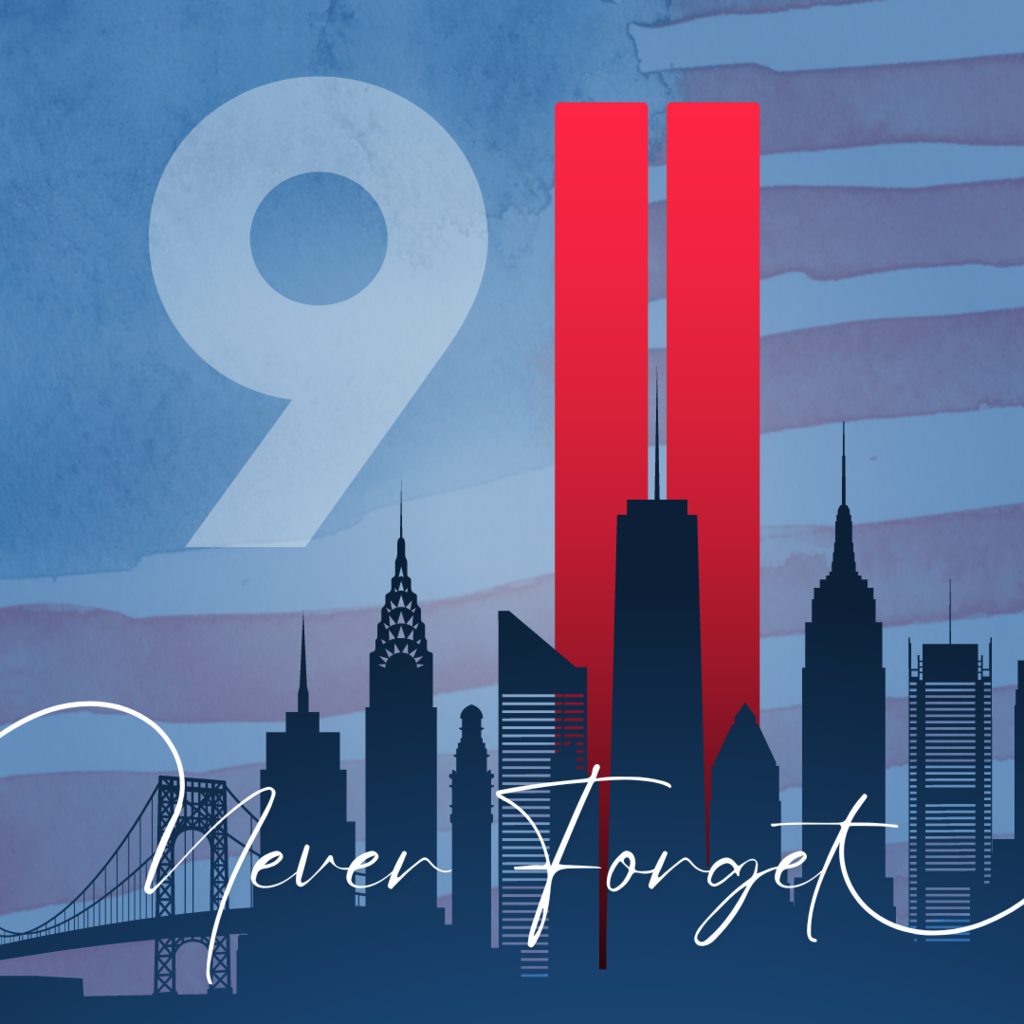 𝗝𝗢𝗜𝗡 𝗢𝗨𝗥 𝗧𝗔𝗟𝗘𝗡𝗧𝗘𝗗 𝗧𝗘𝗔𝗠 𝗢𝗙 𝗗𝗥𝗜𝗩𝗘𝗥𝗦 📢 🚌⋆ PCS SUB BUS OPERATOR TRAINING CLASS ⋆.ೃ࿔*:・ Putnam County Schools is accepting applications for substitute bus operators for its September Driver Training Class. Applicants and interviews will be the week of September 18th through the 22nd. 🗓 Class will begin September 25th at 5:30 pm! For more information on becoming a substitute bus operator or questions about applying, please contact Putnam County Schools at 304-586-0500 ext. 1103. 🚍 #PutnamProud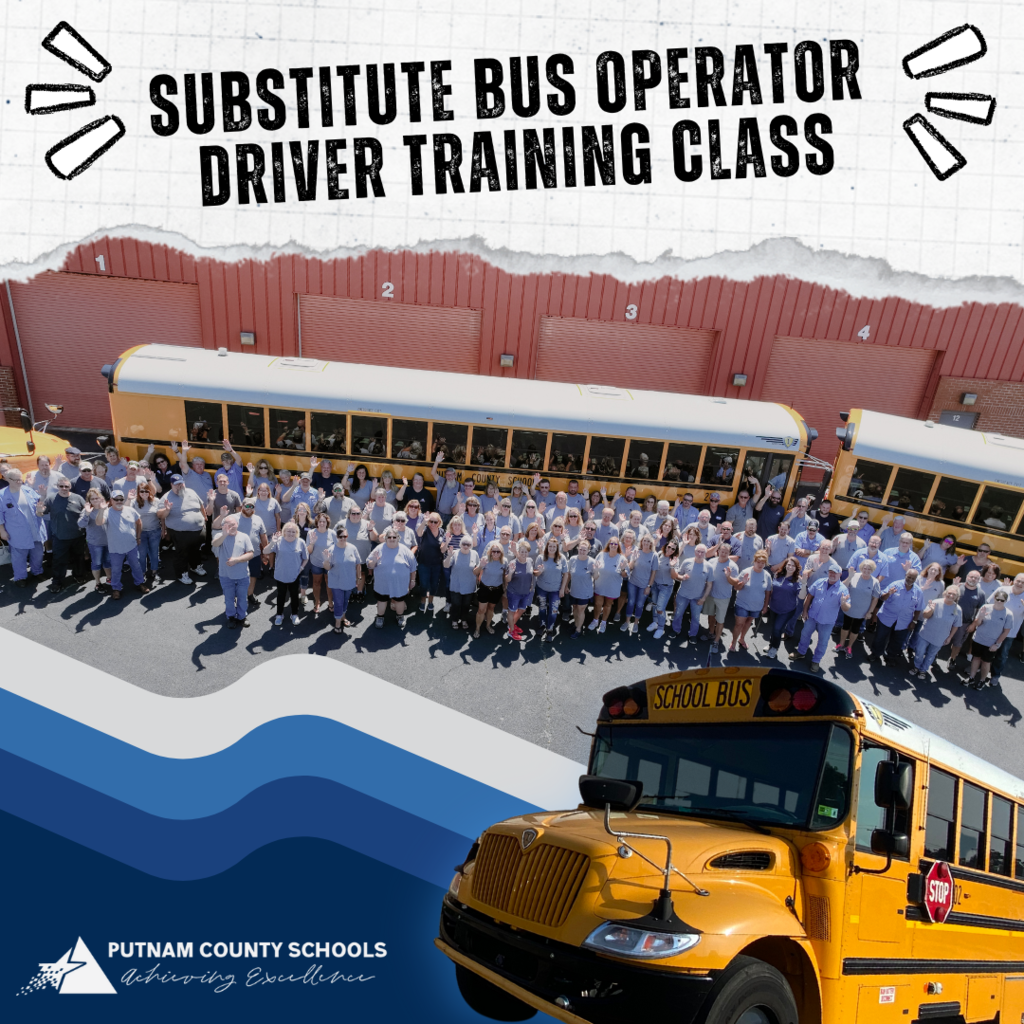 IT'S FINALLY HERE! THE 2023-24 SCHOOL YEAR STARTS TOMORROW! Join the celebration! Share your back-to-school photos using #B2SchoolPCS23! 📚🚌📝🏫🍎#PutnamProud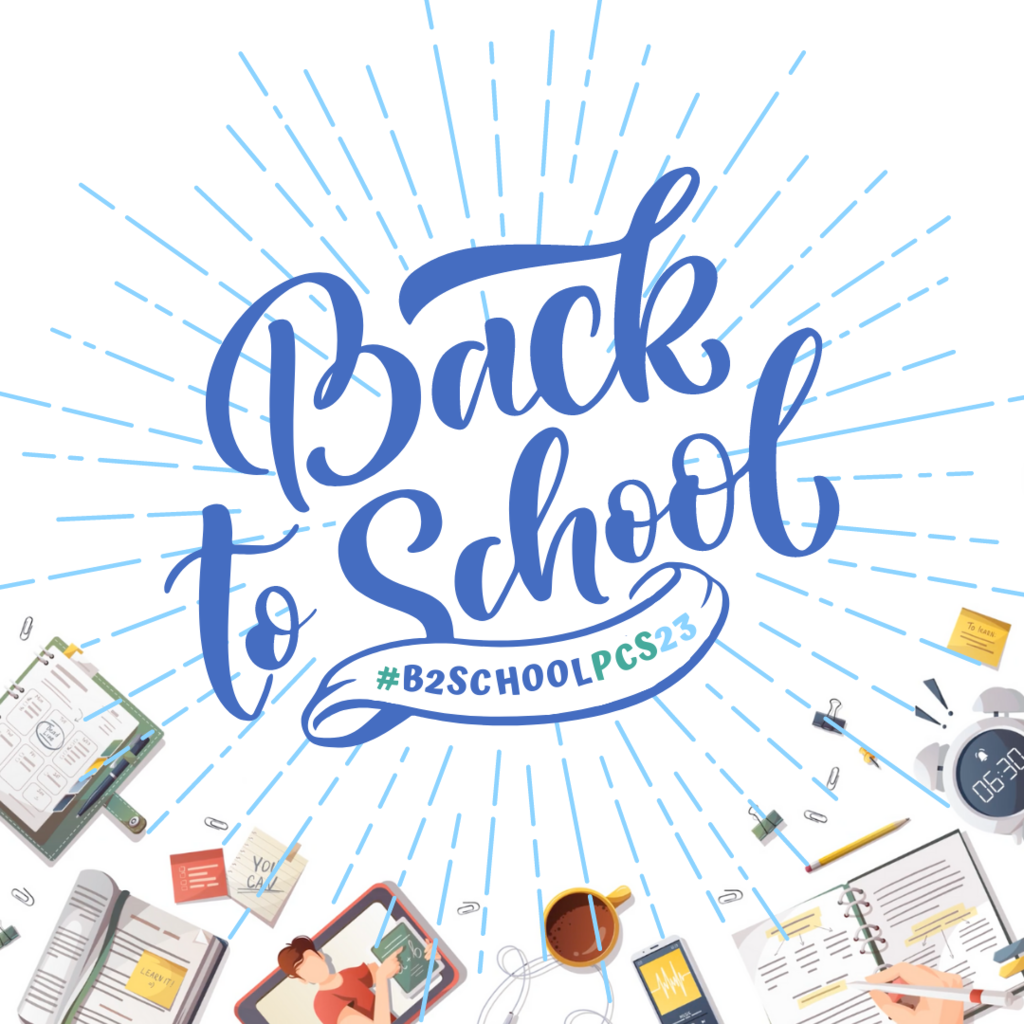 🅡🅔🅜🅘🅝🅓🅔🅡! 🔔 ALTERNATE SCHEDULE FOR MIDDLE AND HIGH SCHOOL STUDENTS ON THURSDAY, AUGUST 24: GRADES 6 & 9: 🅝🅞🅡🅜🅐🅛 🅢🅣🅐🅡🅣 Tomorrow, on the first day of school, students in grades 6 and 9 will begin the school day at their traditional start time. Buses will run their regular route times to pick students up. GRADES 7-8 & 10-12: 🅓🅔🅛🅐🅨🅔🅓 🅐🅡🅡🅘🅥🅐🅛 There will be a 3.5-hour delayed arrival time for all 7th, 8th, 10th, 11th, and 12th graders. Please note that if your student rides the bus, the second round of buses will pick up students 3.5 hours later than their regularly scheduled run time. 🅝🅞🅣🅔: The alternate schedule/delayed arrival is for new middle (6th grade) and high school students (9th grade) to participate in their schools' WEB and Link Crew first-day activities.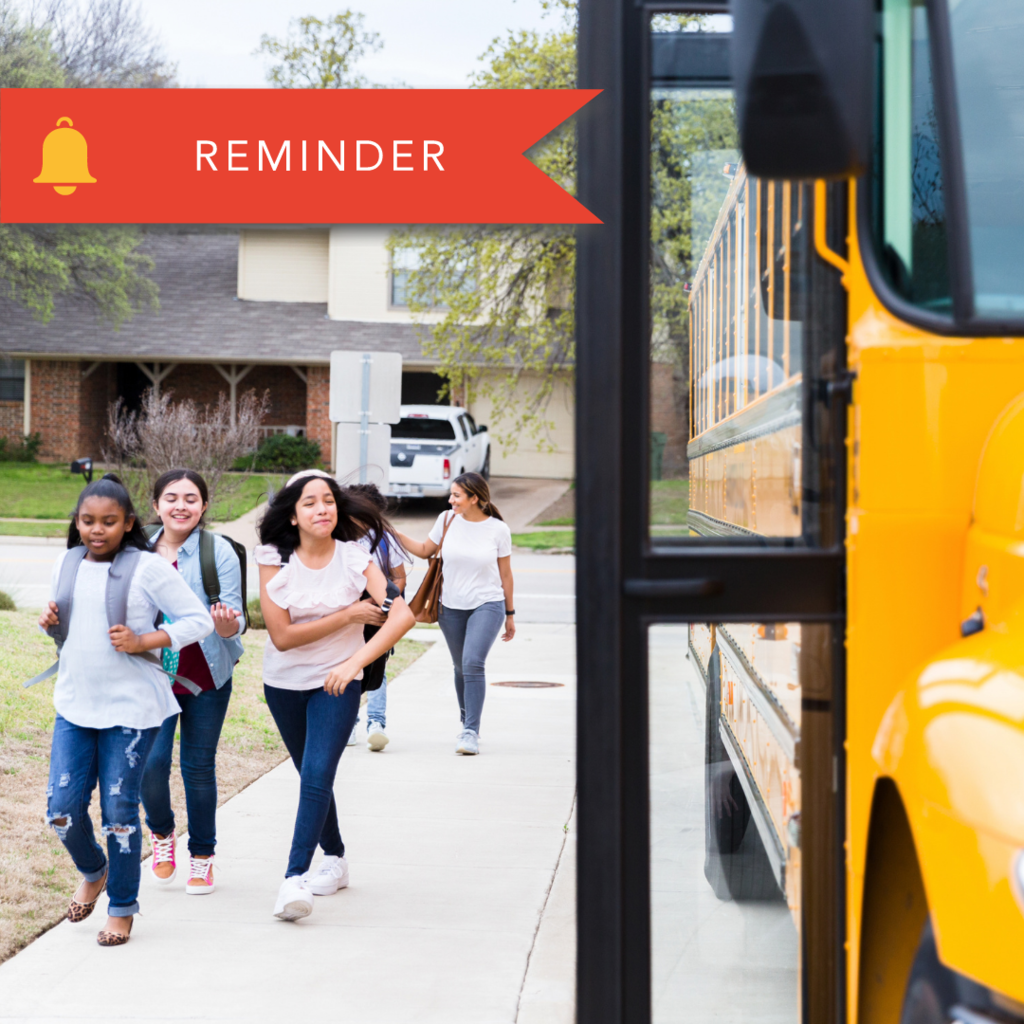 PCS to provide free student meals through the CEP Program at the following nine participating schools for the 2023-24 school year: Buffalo Elementary, Confidence Elementary, Hometown Elementary, Hurricane Town Elementary, Lakeside Elementary, Poca Elementary, Rock Branch Elementary, Poca Middle, and Poca High. NOTE: Meal applications are NOT needed for students attending CEP schools. MORE INFO 👉
https://www.putnamschools.com/article/1211705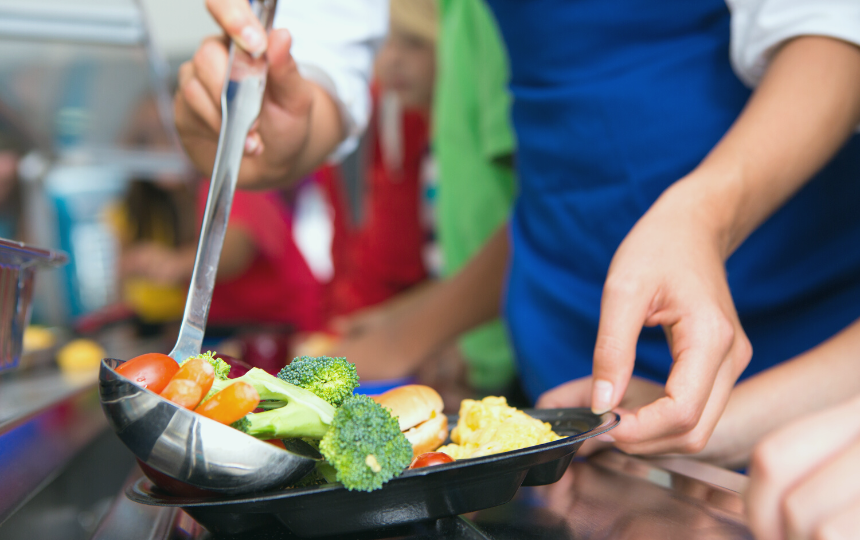 🚨IMPORTANT B2SB UPDATE🚨 Due to the overwhelming response to the morning session (one) of the Back to School Blast event, the evening SESSION (TWO) HAS NOW BEEN CANCELED.  👇STILL NEED SUPPLIES?👇 If your child is still in need of a backpack and school supplies, please email Elizabeth Hoh at 
elizabeth.hoh@k12.wv.us
. 📧 Please include the following information in the email. Your child's: ✅Full Name ✅School ✅Grade    Thank you, and we apologize for any inconvenience. 🙏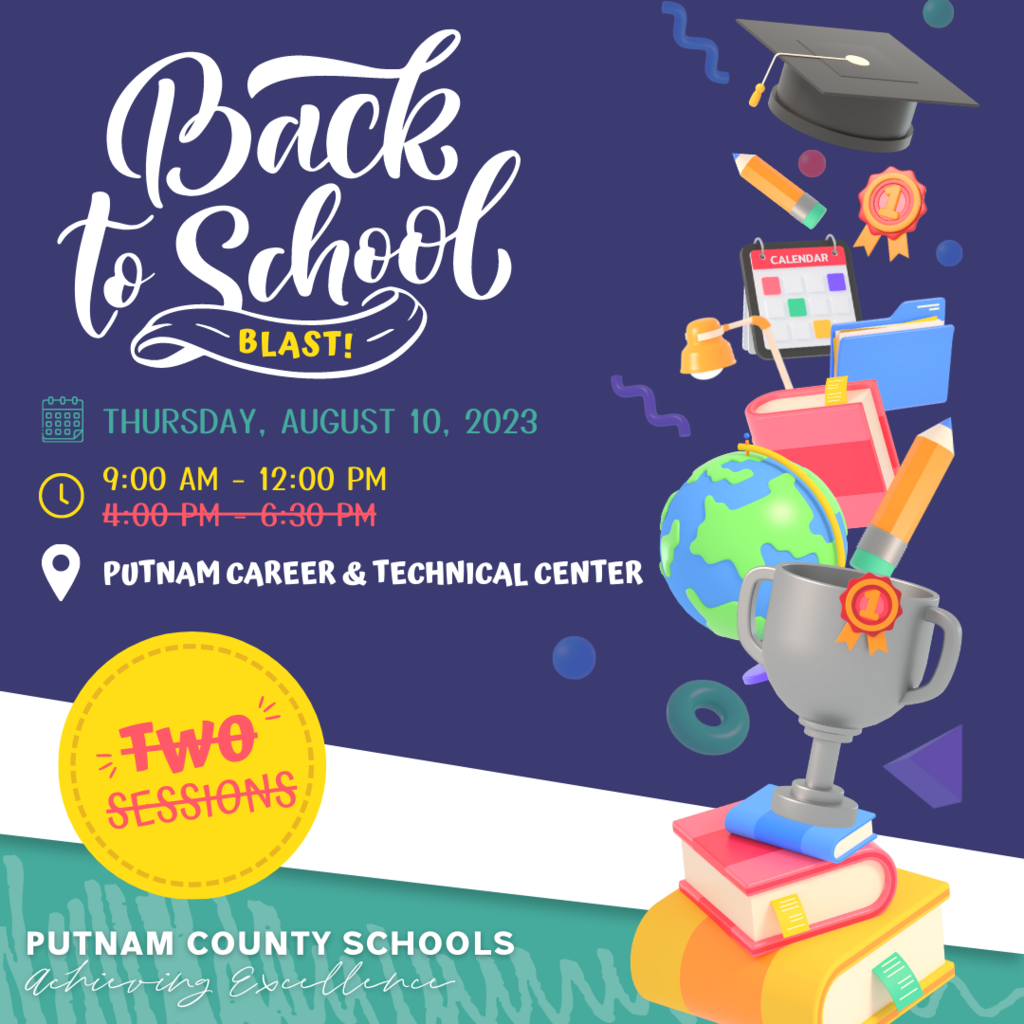 🎉 HAPPENING TOMORROW! 🗓 AUGUST 10TH! 🎒 Putnam County Schools Title I Program and Putnam Community Members will host the annual PCS Back to School Blast at Putnam Career & Technical Center! This event is open to all PCS students from PreK through Grade 12 and will feature TWO DRIVE-THROUGH SESSIONS! 🚗🛻🚙 🕘9 AM to 12 PM 🕓4 PM to 6:30 PM REMINDER: Students Must Be Present 📓✏️📚 #PositivelyPUTNAM #PutnamProud #B2SchoolPCS23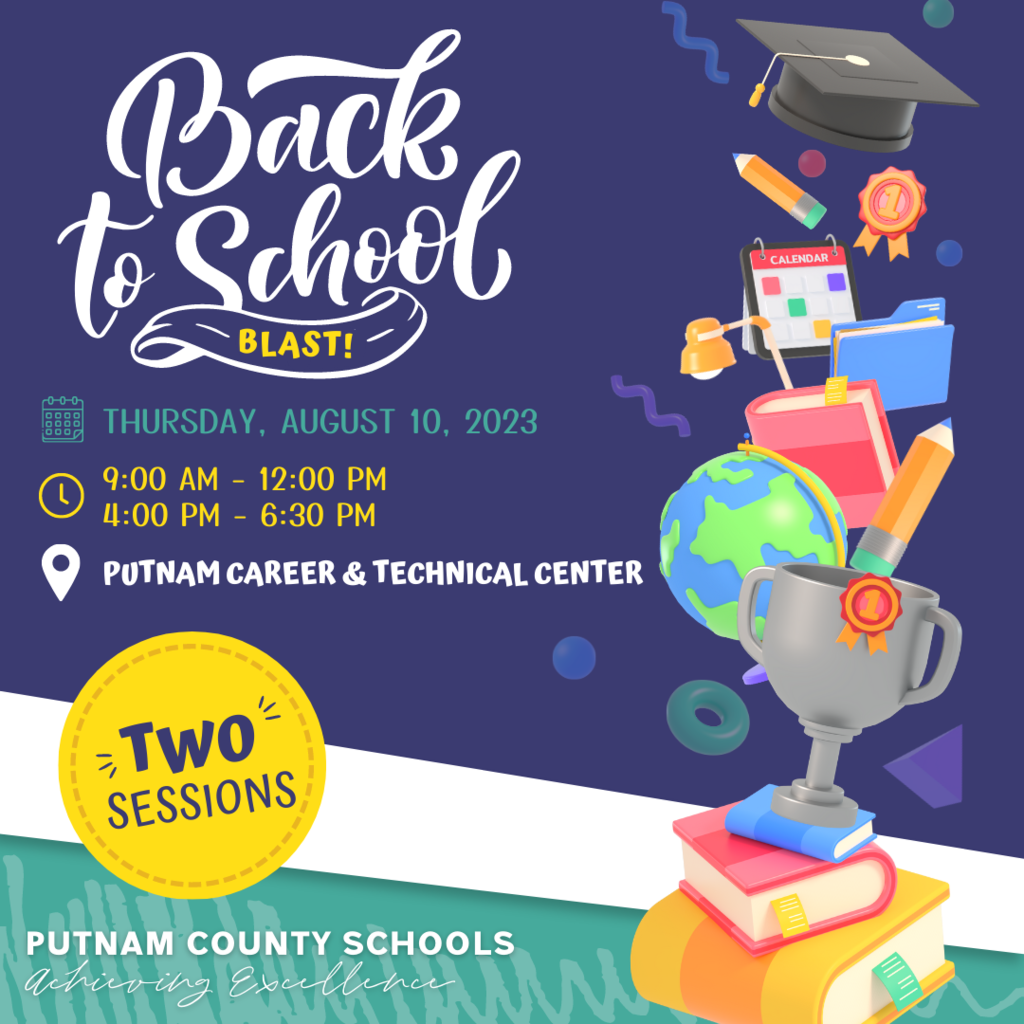 🗓 SAVE THE DATE! 🎉 Thursday, August 10, 2023, Putnam County Schools Title I Program and Putnam Community Members will sponsor the annual PCS Back to School Blast at Putnam Career & Technical Center! This event is open to all PCS students from PreK through Grade 12. This year there will be an option for two drive-through sessions! Session one will begin at 9 am and end at noon. Session two will be from 4 pm to 6:30 pm. As a reminder, this will be a drive-through event where PCS students will receive a new backpack full of grade-specific school supplies. #PositivelyPUTNAM #PutnamProud #B2SchoolPCS23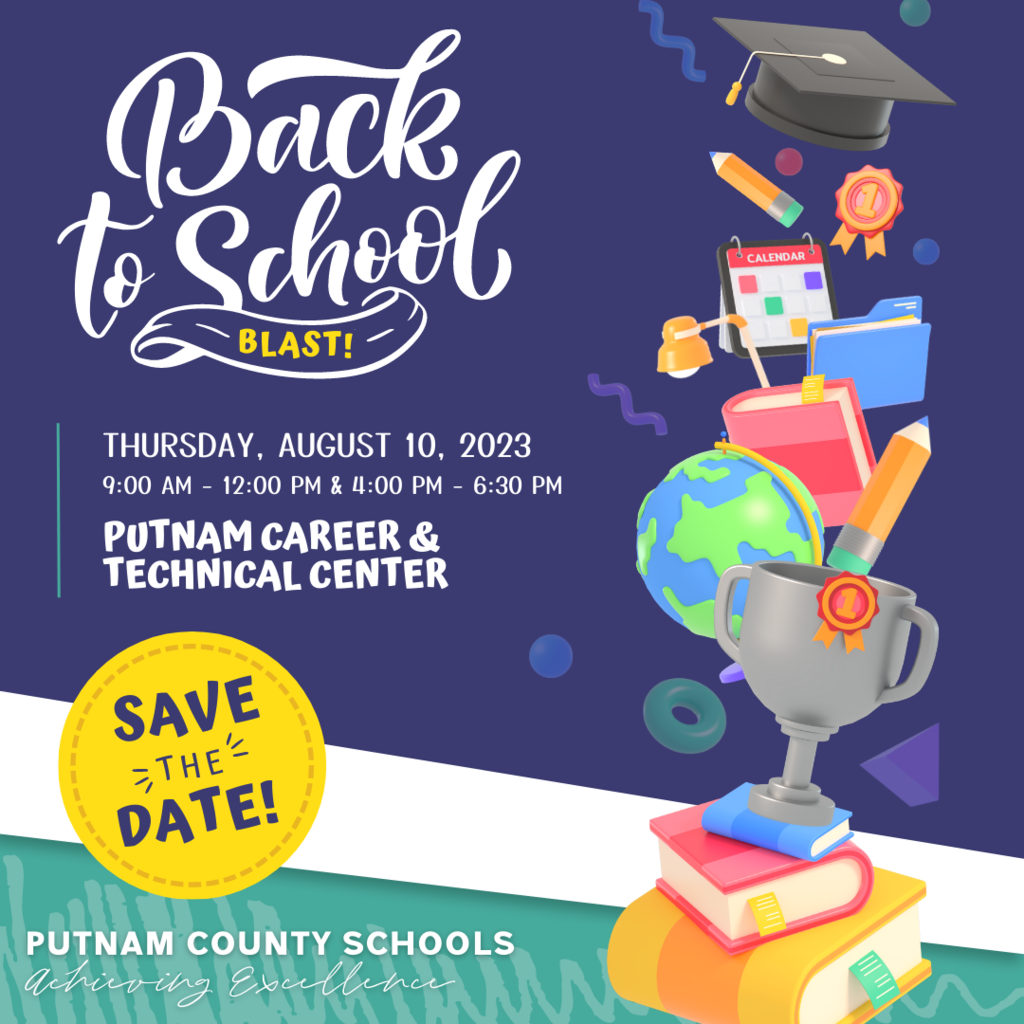 We hope to see you TOMORROW as we kick off the start of summer at Backpack Buddy's Annual Community Packing Day! We are excited to partner with our amazing community to help support Putnam students over summer break! 🎒📦💙 #PutnamProud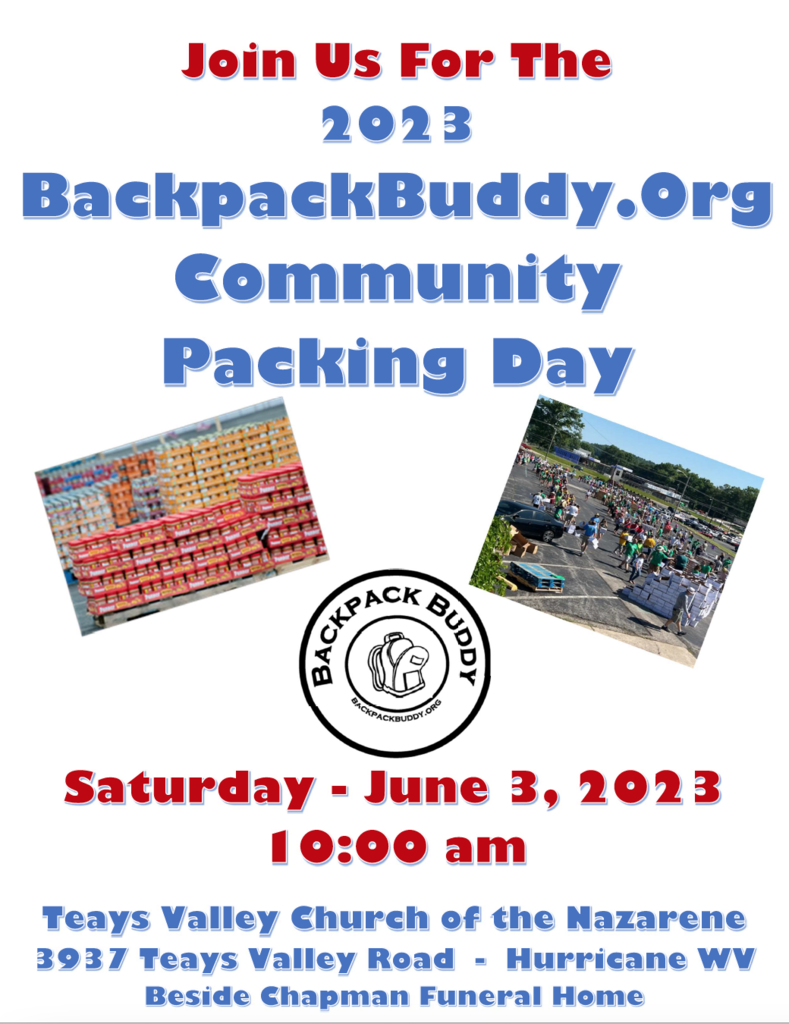 Happy School Nurse Day to our remarkable PCS Nurses! Today we celebrate all #schoolnurses who make a difference in the lives of children every day! Protecting and promoting student health, facilitating optimal development, and advancing academic success! #PutnamProud #SND2023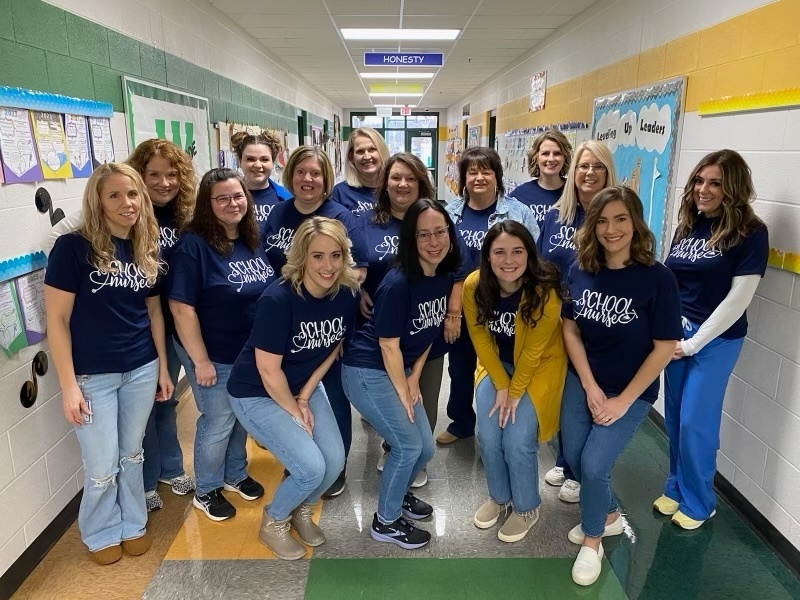 Happy Teacher & Staff Appreciation Week! As we end this week dedicated to our outstanding educators and dedicated school staff members, on behalf of the Putnam County Board of Education and Superintendent John Hudson, we want to say THANK YOU! PCS is incredibly thankful for our teachers and school staff members, who play a large part in student and school success. Join us by taking a moment to think about the school employees who have positively impacted your life, your children's lives, and our Putnam School Community's present and future achievements. #PutnamProud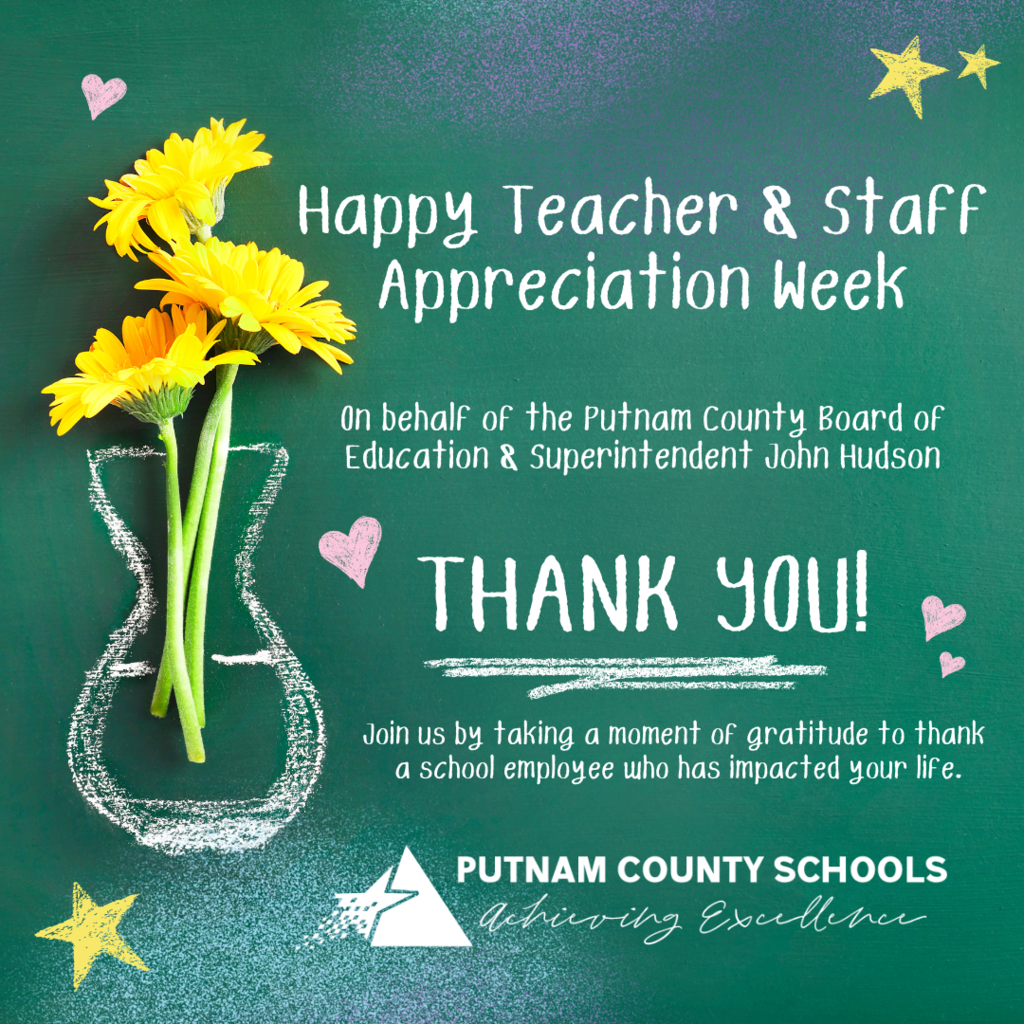 Putnam County Schools is currently accepting applications for Substitute Bus Operators! Apply now through Friday, May 19th. Interviews will begin May 24th! 🚌 #PutnamProud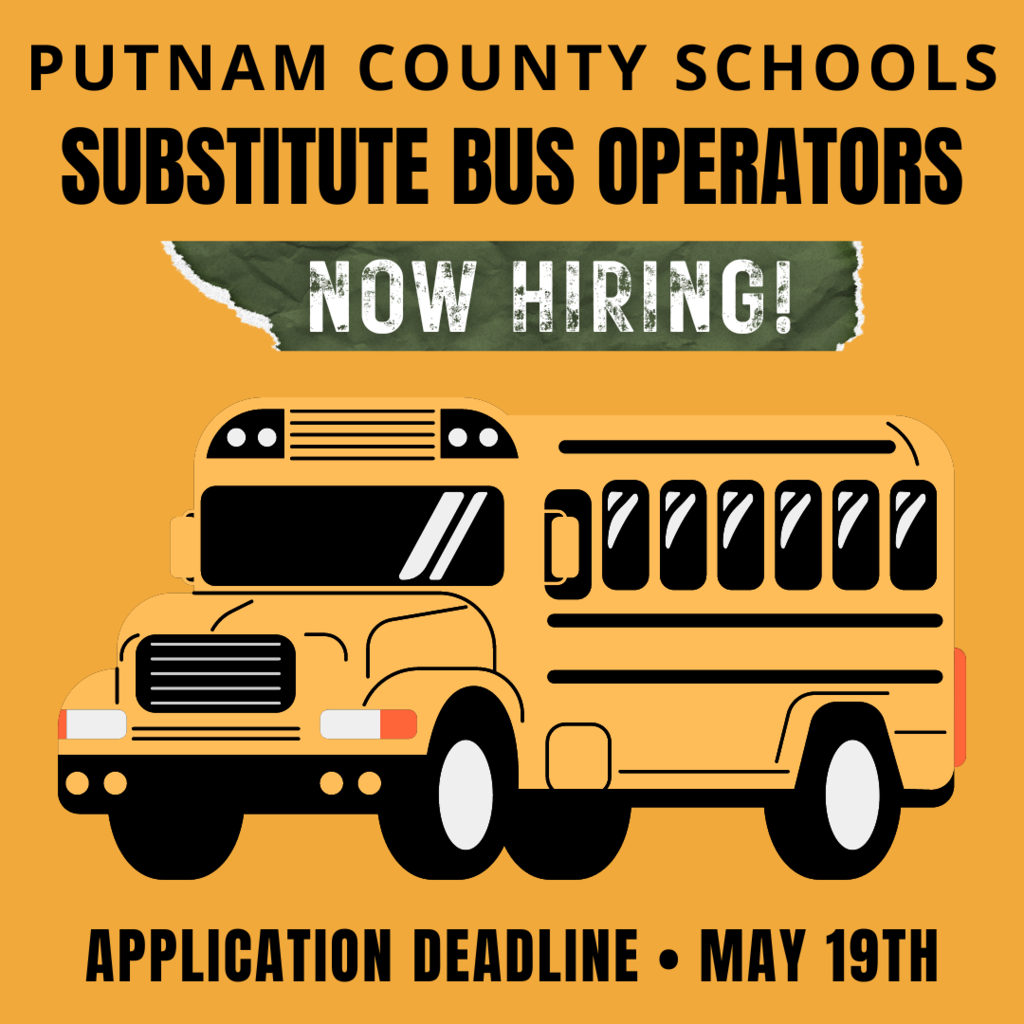 On behalf of Putnam County Schools, Superintendent John Hudson, and the Putnam Board of Education, we wish our high school juniors the best of luck tomorrow during the SAT School Day test!   The SAT is a nationally recognized college and career-readiness assessment and allows students the opportunity to demonstrate their knowledge and skills. PCS students have consistently performed well, scoring higher than the state and national average. This accomplishment reflects not only our students' hard work and dedication but also our Putnam educators, school staff, communities, and families. While seeing our students perform well on the SAT is rewarding, it is also important to remember that test scores measure academic achievement and do not define a student's potential or worth. So, as we support our juniors tomorrow during testing, we hope you will join us in collective encouragement.   Good luck, Juniors! You've got this!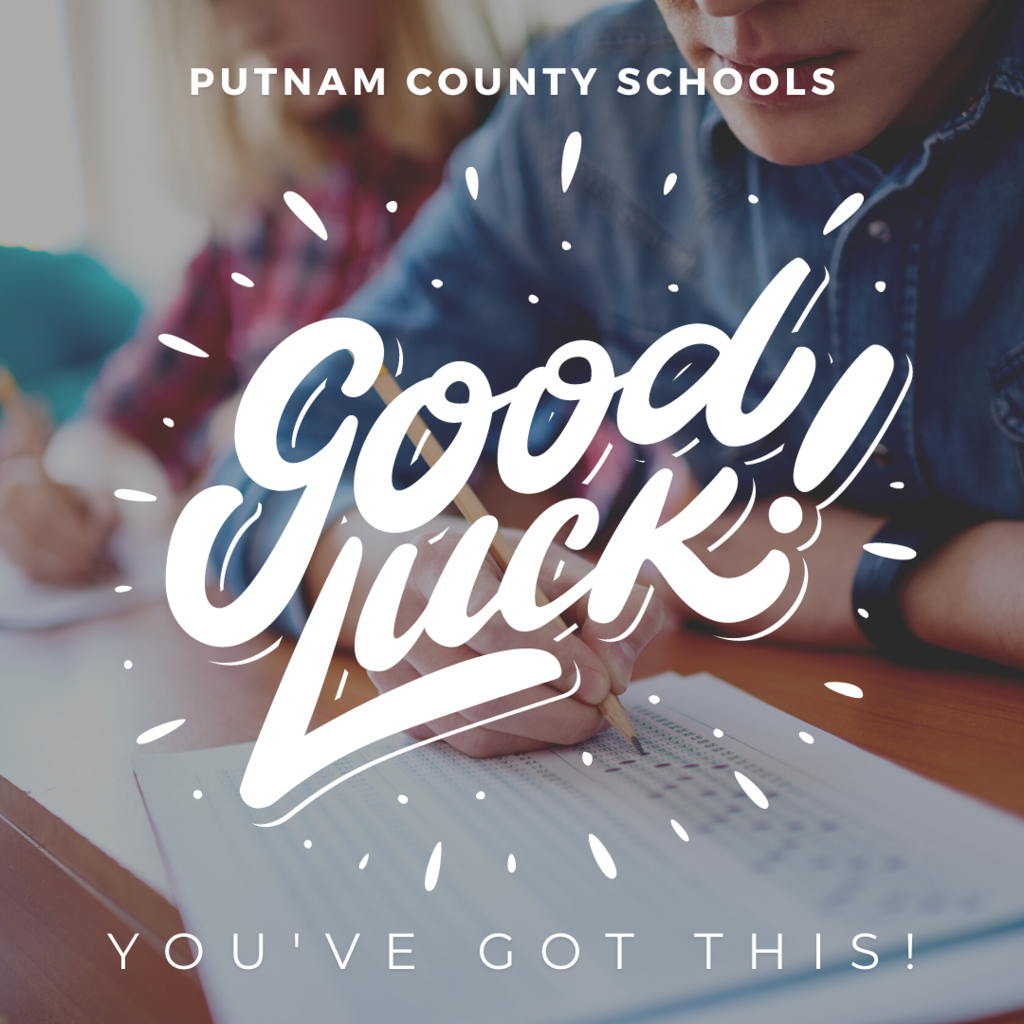 Good Luck to Winfield High School's Academic Showdown Team as they compete for a State Championship Title today in Charleston at the WVDE's 2023 Academic Showdown! Let's Go, Gens! 👏📚💚 #PutnamProud